August 19 2014 – Tim the Fox is the friendly host of the bright, fun puzzle game that is sure to be a big hit with children of all ages!
Aimed at younger children aged 3 to 5, Tim the Fox – Puzzle has more than enough charm and amazing images to entrance anybody who is or was a child!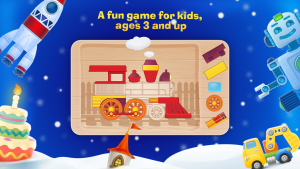 Each level is was drawn by a professional artist so has the loving human touch. The bright puzzles are made up of little pieces that help children develop their attention, imagination, organizational skills and their logic to put the pieces together in the right order. If they can, they are rewarded by an animation before they move onto the next challenging fun level.

Tim the Fox – Puzzle comes with 12 different levels but additional challenges can be purchased including vehicles and festive fairy winter levels for the holiday season! Game has recently received the Sunny Summer Update to make it the best version yet. This includes two new levels in the main game and in the vehicles pack to make four brand new levels. A new pack will be ready to download soon – get ready for Russian Fairy Tales!

Tim the Fox – Puzzle is available to download now for free from the Apple iTunes Store for the iPhone, iPad and iPod Touch. The game will work on iOS6 and later devices including the iPhone 5.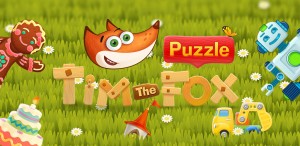 Tim the Fox brand has several games which was selected by Apple as Best in May 2014 and Best in June 2014 and was nominated for the 2013 Best Educational App by WPCentral.
Download Tim The Fox – Puzzle to give your little ones hours of fun and the not-so-little ones hours of peace and quiet!
Notes to Editors
Tim The Fox was created by Internet Expert LLC. For more information contact puzzle@TimTheFox.com or visit http://timthefox.com/
Connect with us on Social Media!
Facebook – http://facebook.com/timthefoxgam
Twitter – http://twitter.com/tim_the_fox or @tim_the_fox